Welcome To A Time For Phonics
Do you understand the importance of phonics in academics? Dana Merritt does and she has developed
A Time for Phonics
. This program sequentially teaches the phonetics needed for academic success. By utilizing
A Time for Phonics
Photo Flashcards, your student will improve in reading, writing and spelling in a short period of time. This program will be enjoyed by children in elementary school as well as young adults struggling with dyslexia. If English is your second language, this program will help you understand how to read, write and spell.
FREE PUBLICATION!
1000 Words Phonetically Decoded A-Z.
Click on the image with the heart.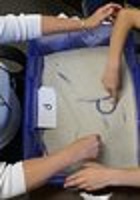 Step 1
Write the letter in the sand as you sit directly across from the student. The student should trace the letter with proper motor patterning.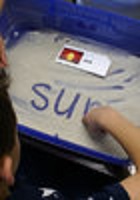 Step 2
Have the student name the card. Instructor writes the word in sand. Student traces the word.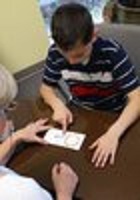 Step 3
Have the student read the card aloud. Instruct the student to either name the first letter or point to the first letter.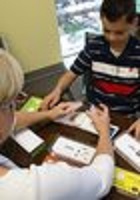 Reshuffle
You, as the instructor, are to reshuffle all the sets as you progress to the next, more difficult step of phonemic decoding.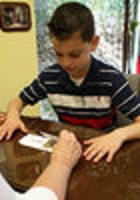 Step 4
The student has previously practiced reading and writing these words. Here, the student is to sound out the word while the picture is being blocked from view.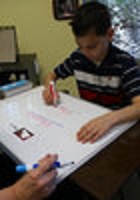 Step 5
The student reads the word aloud. The instructor draws two lines on the whiteboard in one color. Use a different color to write the word. The student should use the same color marker to copy the word correctly.
Step 6
The student reads and copies the word on the board.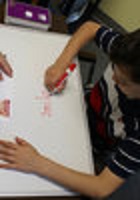 Step 7
The student has practiced the words before and can now write the words without looking at the print.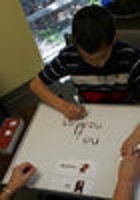 Step 8
The instructor should write a Naked Vowel word and a contrast word for the student to syllabize and mark the long vowel.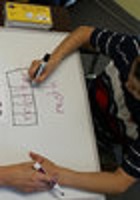 Step 9
The instructor should write two words on the whiteboard and the student should mark the word that does not follow phonics by "putting that word in jail."
Step 10
The student should copy the word using paper and pencil.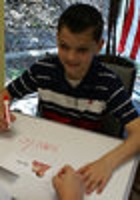 SUCCESS!!
The instructor and student both enjoy the fruits of their hard work!