PTSD
Interactive Metronome Resolved My PTSD
"I had PTSD" is a poem written on December 21, 2011, by Wesley Perkins. Wesley Perkins is an Operation Iraqi Freedom and Operation Enduring Freedom Veteran. You can read his poem HERE. He concludes by saying: "I have PTSD…can someone please help?"
Do you have PTSD? Does a loved one suffer from PTSD? I suffered from PTSD, but those closest to me did not suspect that condition. I was suffering grief from the sudden death of my spouse and the father of my two young sons. My on-going odd behavior was blamed on grief. I had all the signs and symptoms of PTSD.
After 4 months, I was referred to a psychologist and properly diagnosed by a trained and licensed professional. I was prescribed serious medications to help me eat, sleep, minimize my flashbacks, and numb my body pain. After 3 months of medical and psychological care I crawled back to my private practice as a speech language pathologist. The medicines and the counseling continued. My symptoms were manageable. But I would still have flashbacks at the least provocation or a startled reflex that would scare my patients. In May 2000, I attended a FLASHA convention where I learned about Interactive Metronome.
Interactive Metronome (IM) was a new program that was being used to help clumsy, uncoordinated children improve their speech, language and learning skills by improving their motor timing skills. I was struggling in my language, learning and executive function skills so I enrolled in the program. I did IM for 15 sessions and it changed my brain. But, I was embarrassed because of the stigma of PTSD and kept the information private for years. My son, a Marine in Afghanistan in 2009, called me in the middle of the night and made me promise "to tell the world what IM did to help my PTSD." I would rather have kept this information private, but a promise is a promise.
So, here is the poster that I shared at the national Interactive Metronome 2012 conference: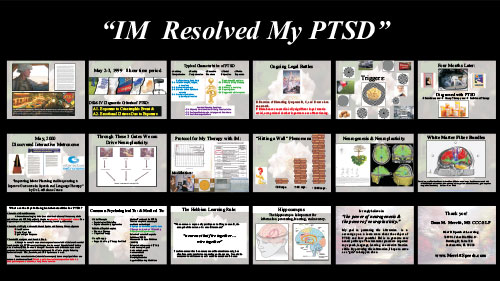 If you are a professional and are in interested in providing the IM program to your patients who suffer from PTSD, please consider watching this one hour long PowerPoint, "IM Resolved My PTSD."
If you suspect you or your loved one, or a patient, suffers from PTSD, please get the proper diagnosis from a trained psychologist and stay on the prescribed medicines. Do research about the power of neuroplasticity to develop new neural pathways in the brain. Also, eat a diet that will provide good building material for the brain and body. Please consider Interactive Metronome therapy to help resolve those PTSD symptoms. It helped me.
Respectfully submitted,
Dana M. Merritt